Are you planning to travel in East Nepal? Are you still putting together your list of best things to do and see in East Nepal?
Well regarded for its fantastic natural atmosphere and cultural attractions, traveling East Nepal is a fun thing to do if you love exploring blissful forests with a diverse range of exotic animals and birds. Make plans to visit East Nepal and get ready to discover the prehistoric cultural customs and norms of several ethnic communities, including the legendary Sherpa people.
1. Mt. Everest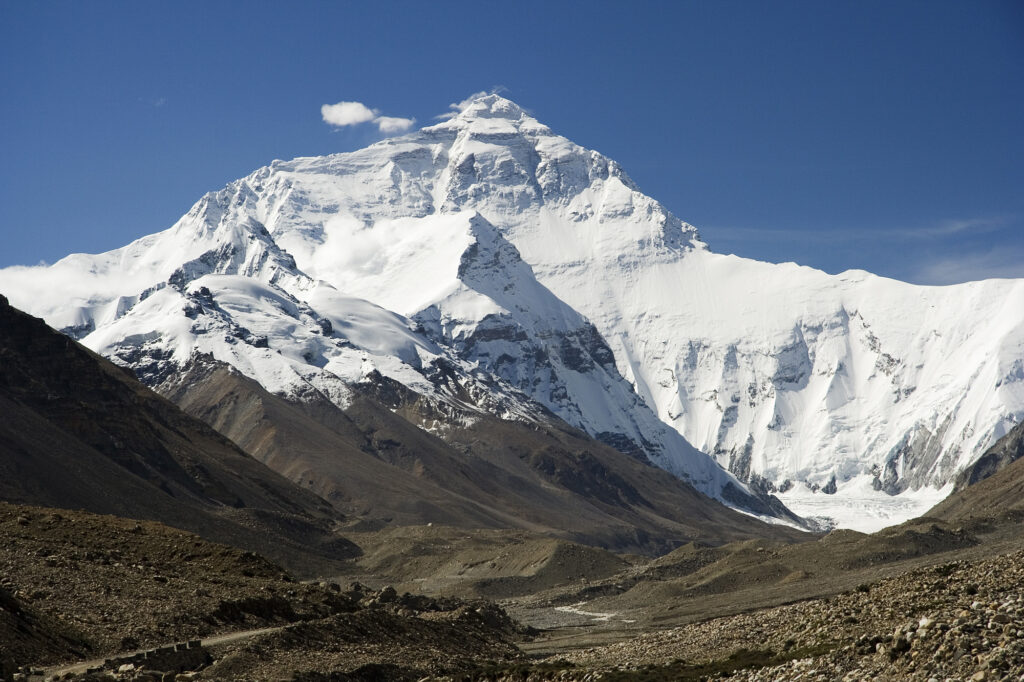 The world's tallest peak lies in the Eastern region of Nepal at an altitude of 8848 meters above sea level. If you love the thrill of trekking along wilderness, Sagarmatha National Park, the home to Mt. Everest is the perfect spot for you.
You have the option for luxury helicopter rides to the Everest too. For an unforgettable journey across pristine glaciers, lakes, unique Sherpa settlements and villages, take a trip to the Mt. Everest by trekking, or you could sign up for a helicopter journey if possible.
Every traveller dreams of trekking on the Everest trail and every climber wishes to scale the mountain peak. Mt. Everest is one of the top-rated attractions and places to visit in the Eastern region in Nepal.
2. Namche Bazaar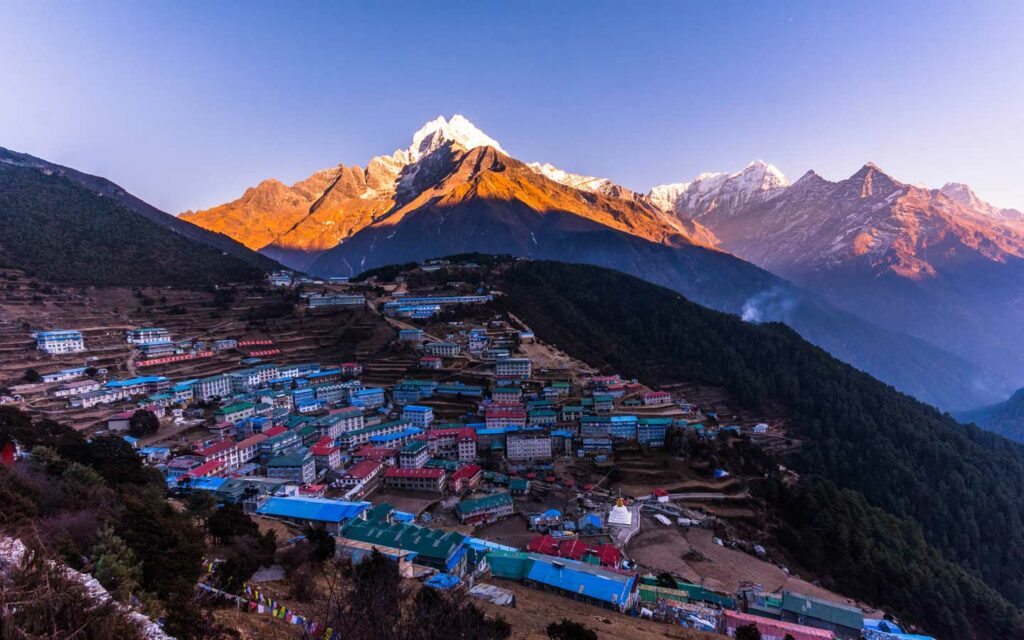 Namche Bazaar is often regarded as the gateway to Mt. Everest. It is a Sherpa settlement and a meeting point for trekkers heading to different destinations in the Everest region. Namche Bazaar can be reached after a two-day trek from Lukla air strip. A trek of around three hours from Nanche Bazzar takes visitors to the beautiful Sherpa vilages of Khumjung and Khunde lying on the laps of Khumbi-la, a beautiful greatly revered by the Sherpa people. There is a beautiful monatery on theupper part of Namche Bazaar.
3. Ilam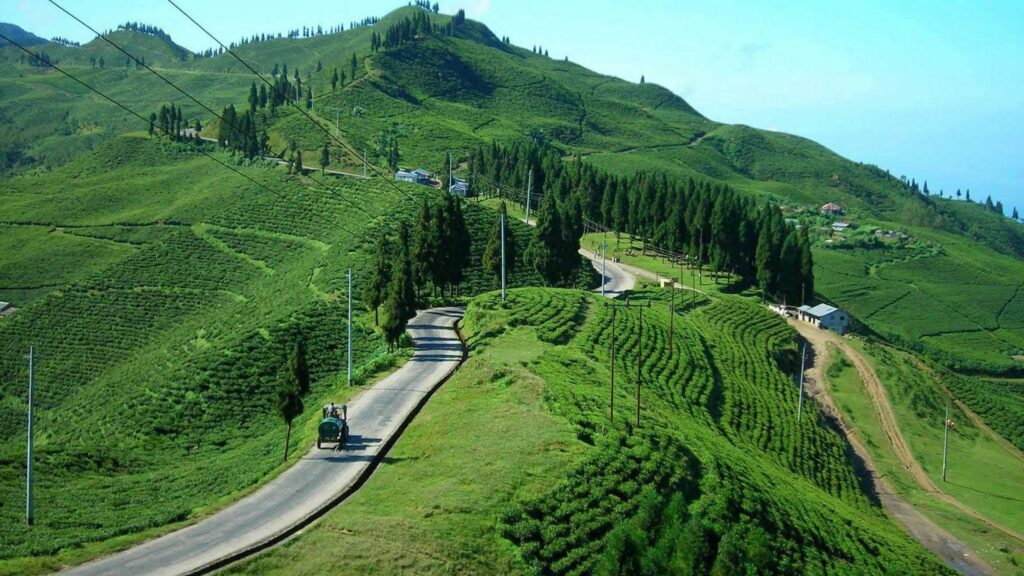 Ilam is a beautiful hilly district in eastern Nepal, situated 600 km east from Kathmandu, Ilam is best known for its tea gardens. The produced in Ilam is famous all over the world, especially in European countries. Ilam is famous all over the world, especially in European Countries. Illam is home to different species of bird and animals, including the endangered Red Panda. Apart from beautiful tea gardens, Antu Danda is another attraction in the district. Antu Danda, also known as shree Antu, is a greate place to view sunrise. Maipokhari is another important destination in the district having both religious and natural significance. Siddhithumka is another attraction of the district which is also famous for views of sunrise and sunset. Mane Bhanjyang, a pass that connects ilam with Darjeeling in India, is another attration in the district.
4. Tengboche Gompa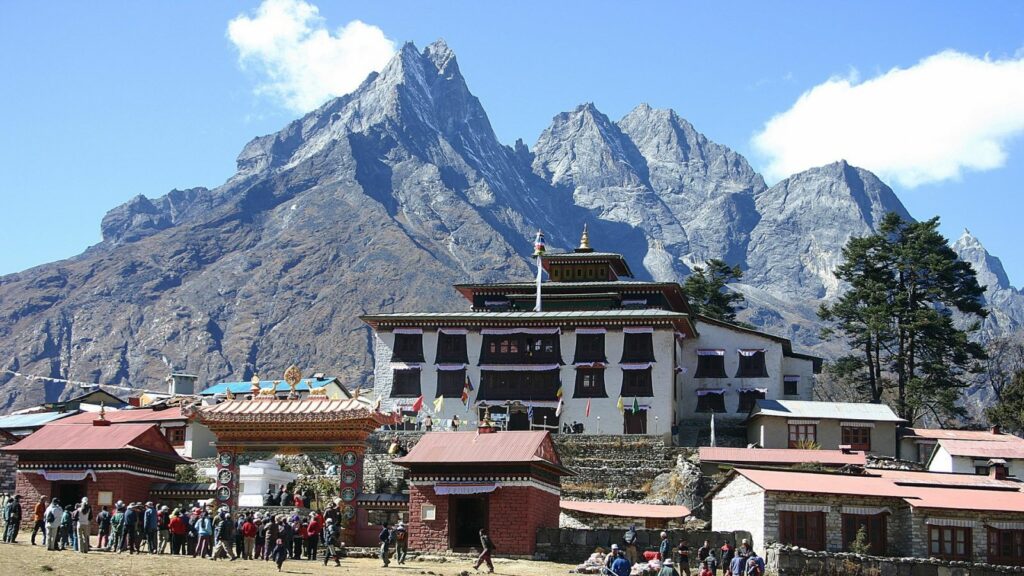 In the beautiful village of Tengboche at Khumjung is a centuries-old monastery namely the Tengboche/Thyangboche/Dawa Choling Gompa. Tengboche monastery is a monastery of the Sherpa people and is of Tibetan Buddhist origin.
Lama Gulu built this exquisite monastery in 1916; its roots connect to the mother monastery, Tongbuk monastery which is in Tibet. This monastery resides in the UNESCO World Heritage Site Sagarmatha National Park. And the backdrop consists of the magnificent peaks like Nuptse, Tawache, Ama Dablam, Thamserku and Everest.
Tengboche Gompa is among the top-rated and best places to visit in the Eastern region in Nepal.
5. Khumbu Glacier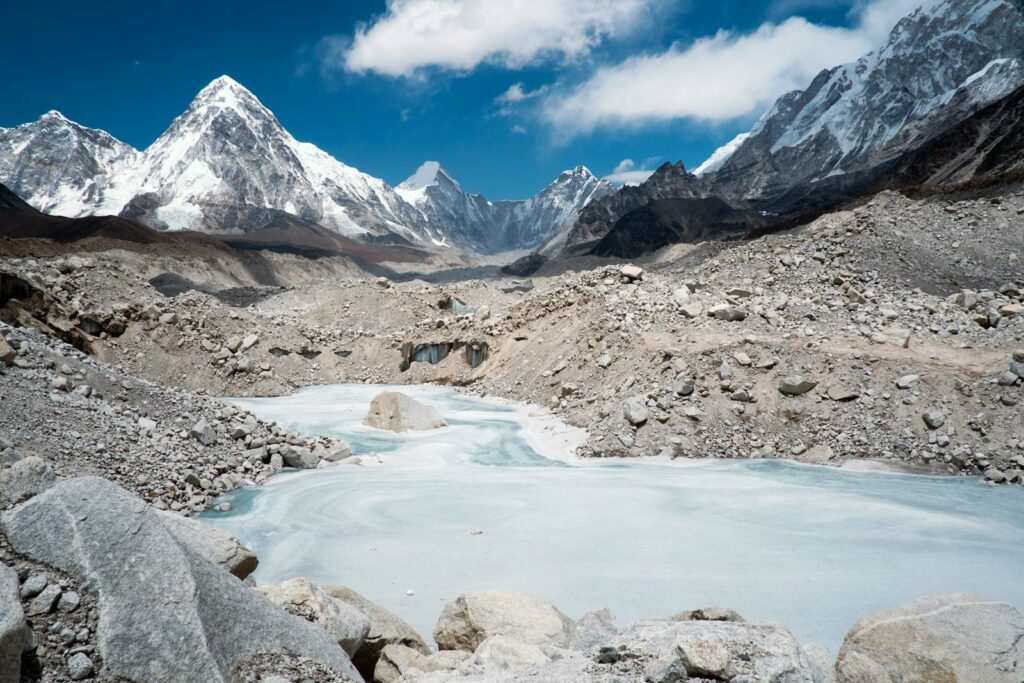 Between the Lhotse-Nuptse ridge and the gigantic Mount Everest, is the Khumbu glacier. Most trekkers and climbers get the opportunity to witness the Khumbu glacier as it is on the trail to one of the EBCs (Everest Base Camps).
Khumbu Glacier has a massive icefall, namely the Khumbu icefall. This icefall appears a hurdle for people summiting the Everest. The panorama around this giant glacier is mesmerizing nonetheless, which makes it one of the top-rated and best place to visit in the Eastern region in Nepal.
6. Koshi Tappu Wildlife Reserve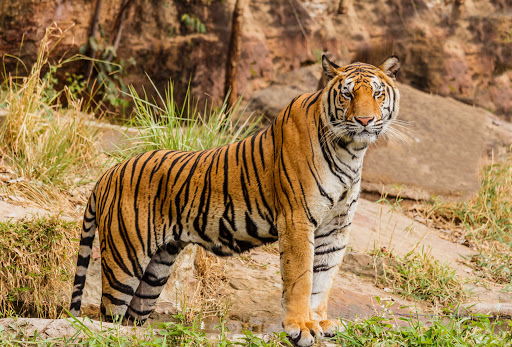 Koshi Tappu Wildlife Reserve at the Eastern Terai region of Nepal covers 175 kilometre square of the wetlands that reside in Saptari, Udayapur and Sunsari districts. There are reed beds, mudflats, as well as freshwater marsh in this plain.
This wildlife reserve opened in 1976 to protect the vegetations and wildlife of Eastern Nepal. There is marshy vegetation, deciduous riverine forests along with grasslands in this area. Around five hundred fourteen plant species reside here.
There are two hundred species of fish, nine frog species, five snake species, two toad, six lizard and eleven turtle species—Koshi Tappu Wildlife Reserve shelters mugger and Gharial crocodile too.
Reports mention thirty-one species of mammals and four hundred eighty-five birds in Koshi Tappu Wildlife reserve. For people who are in love with observing wildlife, the trip to this place could be a treat. This wildlife reserve is among the top-rated and best places to visit in the Eastern region in Nepal.
7. Mera Peak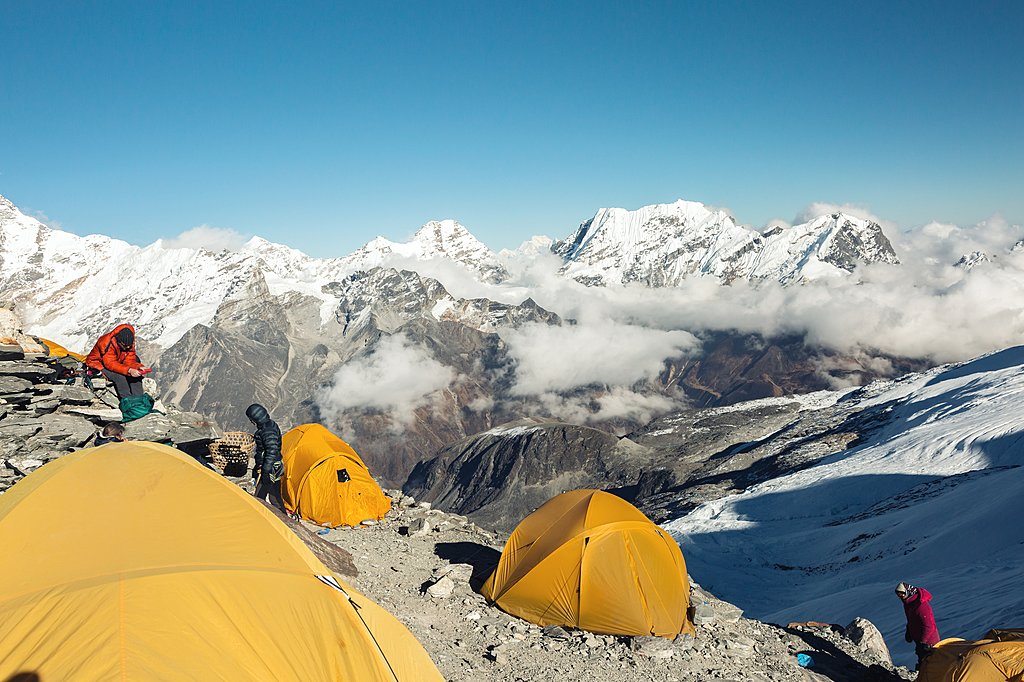 One of the excellent trekking destinations in the Eastern region of Nepal is Mera Peak in Solukhumbu District. The peak is at an elevation of 6476 meters with three summits namely Mera North at 6476 meters, Mera Central at 6461 meters and Mera South at 6065 meters.
Mera Peak trekking journey takes you along an adventurous trail with lush green forests, rocky path, beautiful villages and friendly people in different communities. Hence it is one of the top-rated and best places to visit in the Eastern region in Nepal.
These places are the top on the list for exciting places to visit in Eastern Nepal. Buckle up for a fantastic travel experience to these top-rated and best places to visit in Eastern region in Nepal.
8. Gokyo Lake
On the list of top-rated attractions and places to visit in Eastern region in Nepal, Gokyo Lakes falls too. It is a mystical feeling to admire the beauty of the pristine Gokyo Lakes and savouring the view of the mighty Everest's reflection on the water.
People revere the Gokyo Lakes; both Hindu and Buddhism followers. The landscape around Gokyo lakes resembles the structure of the moon; shimmering white and blue.
Majestic Himalayan peaks surround the lakes and even adorn the trail that takes you to the Gokyo valley. The lakes stand at an elevation of 4700 to 5000 meters. Given this high altitude, the weather is unpredictable and very chilling. Gokyo trip entails appropriate planning and arranging proper equipment for the journey.
9. Bhedetar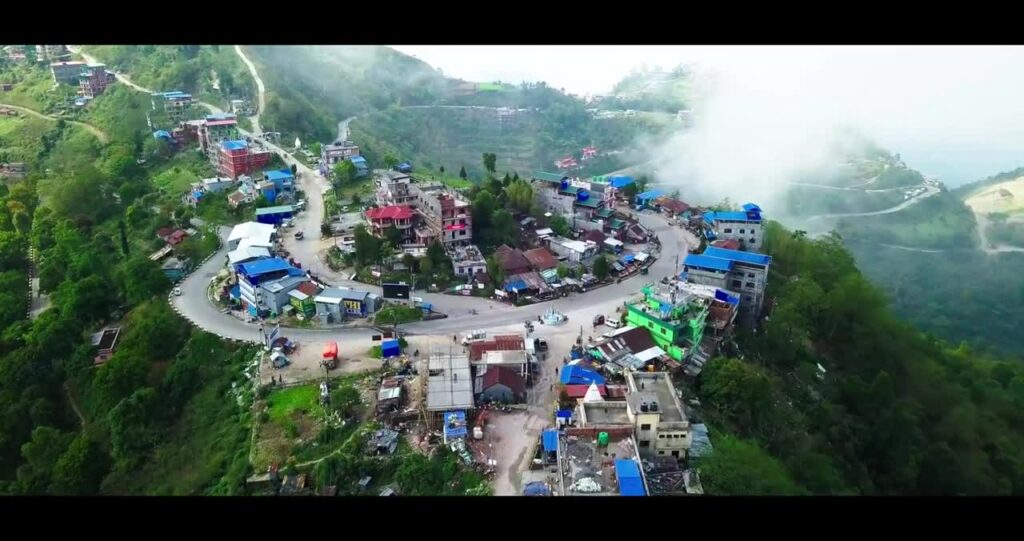 Bhedetar is a small hill in Dhankuta district along the Koshi highway. The place became famous after Prince Charles visited it. There is also a place called Charles Point, which offers magnificent views of mountains in Eastern Nepal. Bhedetar also has a view tower at a vantage point offering attractive views os Tarai plains in the south and snowcapped mountains in the north. Bhedetar is a popular stopover for visitors heading to hilly districts in eastern Nepal.
10. Lukla Airport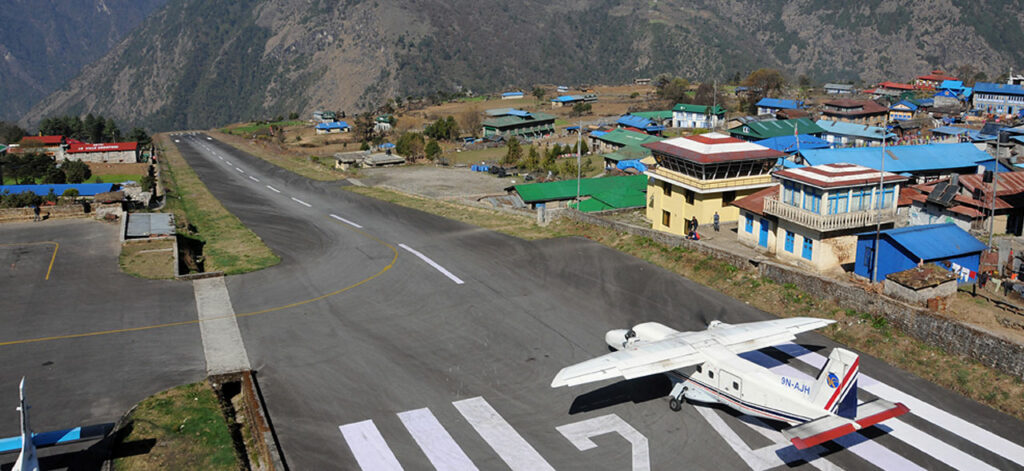 Unlike any other airport in Nepal, the Lukla Airport stands out as a top place to visit in East Nepal. For most of the travelers heading to Mt. Everest, it's necessary for them to take a flight to Lukla airport as it saves them time. It usually takes about 30 minutes to reach Lukla from Kathmandu, the best part is that travelers get to see the towering peaks of Himalayan Mountains during the flight.